TV Aerial Installations Stratford-upon-Avon
We offer TV aerial installations throughout Stratford-upon-Avon. Our reliable TV aerial installation ensures that your TV aerial has been installed correctly to maximise the signal for your freeview or television signal. If you would like to book an installation or would like a quote for installation in Stratford-upon-Avon, give Aerials & Satellites Ltd a call on 01527 60569 or fill out our website's contact form.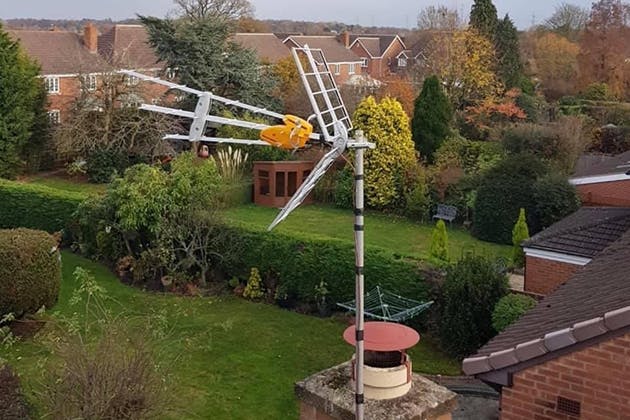 Why you should hire experts for TV aerial installation

Incorrect installation of TV aerial can have a massive impact on the quality of the signal you receive in your home. As local TV aerial experts, Aerials & Satellites Ltd ensure that your TV aerial is placed in an effective position that gives your home the best signal possible.
With over 35 years of experience, Aerials & Satellites Ltd can provide you not only with a high-quality TV aerial installation but also unmatched customer service designed to leave all of the clients happy with the service that they receive.
With a range of available options, Aerials & Satellites Ltd will be able to advise you on the best TV aerials for your home and needs.
Why it is worth getting a TV aerial installation in Stratford-upon-Avon
Installation of a TV aerial allows you to have access to free local channels as well as use freeview. Freeview is a fantastic way to enjoy a range of channels without having to pay an expensive monthly subscription found from expensive alternatives.
Choose reputable TV aerial installation in Stratford-upon-Avon
By choosing a local company that specialises in TV Aerial installation, you can be sure that your new TV aerial will be installed safely and in a way that will provide the best TV signal for your home. We proudly display our previous clients' reviews here on our website. To read what they have to say, visit our reviews page.
Purchasing a Stratford-upon-Avon new build home?
New build homes typically do not come with a TV aerial. If you are purchasing a new build we provide expert installation of TV aerials to truly complete your new home.
Need TV aerial installation in Stratford-upon-Avon?
For professional installation of TV aerials call Aerials & Satellites Ltd today on 01527 60569 or contact us via our contact form. Our reputable installers will install your TV aerial with a robust signal for freeview and standard channels.